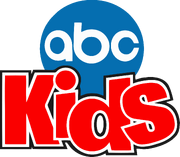 ABC Kids is a television block of the American Broadcasting Company.
ABC Kids is well-known for airing many shows that came from the 20th century such as Phineas and Ferb, Wizards of Waverly Place, Shake It Up, and Wander Over Yonder, as well as episodes of currently-running series, Boneheads among them.
ABC Kids was made as Disney's One Saturday Morning from 1997 until 2002. In August 27, 2011, it was concluded and a week later on September 3, it was replaced by Litton's Weekend Adventure; after the block concluded on January 23, 2016 and was moved to the USA Network as USA Kids, ABC Kids was revived on January 30.
With BoneheadsEdit
ABC Kids first started airing episodes of the popular Boneheads series when it was first aired in January 30, 2015. Episodes are currently airing at 11:00 AM ET/PT on Friday.
Community content is available under
CC-BY-SA
unless otherwise noted.